The GUL CTD – Central Tide Disc – watches are extremely easy to read and very accurate. At a glance the current tide situation can be read.
The sophisticated technology of the CTD watches makes it possible to forecast the tide situation in the next two weeks.
It also indicates current and forthcoming springs and neaps. All this information is given with the help of one turning disc – the GUL CTD!
HOW TO READ THE GUL CTD WATCHES: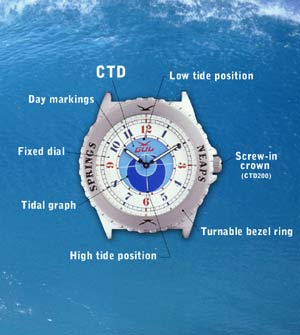 It is 10:10 on day 1.
High tide was at 6.00.
Observe where the hour hand cuts the tide graph to see there is less than half tide now, and the tide is going out. Low tide will be in two hours at 12:10
Neaps have just passed, springs will come approx. six days later.
Two days later, day 3, at 16.30.
Low tide was at 13.50 this afternoon, and high tide tonight will be at 20.00. The hour hand indicates that there is less than half tide now and rising.
Tides are still making. Maximum springs due in 4 days.
Advance just under three more days to day 6, and the CTD has moved on to show the next high at 10:10 and low at 16.15 .
The amount of water under the hour hand indicates half tide and rising. The bezel shows spring tides for the next few days.

Forward again to day 8 at 11:50 . It is high tide now, and the last of the springs for this fortnight.
Tides will now fall off for the next week as neaps approach. Low tide this afternoon at 18.00.
Watch
Dial colour  –   CTD Light blue
Glass  –  Mineral glass
Case size  –  40mm
Case material  –   Brass
Waterproof  –  200 ATM – 200m (bath / swimming)
Movement  –  Miyota analog CTD
Date  –   No
Strap
Material  –   Velcro
Colour  – Black
Width  – 20 mm