GUL, THE WATCH BRAND.
Contrary to many other so called sports watch brands, GUL has a true sports heritage from the early 60´s and the surf environment in Cornwall, England.
GUL was then, and still is, a major brand in wetsuits for all water sports.
Sten Warfvinge, a world champion dinghy sailor, founded Delva in Sweden together with his associate Anders Delander, and their company became early distributors of GUL wetsuits.
In the early 80's the idea was born to make watches under the GUL brand name. Sten longed for a watch that could match the wetsuit that was "Born in the water, shaped by the sea"
We are still at it nearly 40 years, and 2 million GUL watches later, creating durable watches in classic and sporty designs. The are all at least 10ATM waterproof, have sapphire or hardened mineral glass and offer great value for money. Many of the models are offered in a wide choice of dial colours and many strap alternatives including the original Velcro strap, Silicon, PU, stainless bracelets and the unique Swedish elk skin leather strap.
GUL Watches exclusively use movements made by Japanese Miyota. The reason is that they are the best we can find on the market and they are considered the trusted workhorse of the watch industry. They have an accuracy of less than one second per day and are very resistant to shocks.
GUL Watches uses the Miyota movement because of its quality, dependability and the freedom it allows us to offer our customers beautifully crafted and functional watches at an affordable price.
By a strange coincidence, in the late sixties Sten Warfvinge built his own boats and named them GUL  – meaning "yellow" in Swedish – long before he had ever heard of the wetsuit brand GUL.
For Swedish speaking people: "GUL" does not mean "gul", the Swedish word for "yellow". It is an intentional misspelling of "gull" which means the bird "mås". Thus the logotype.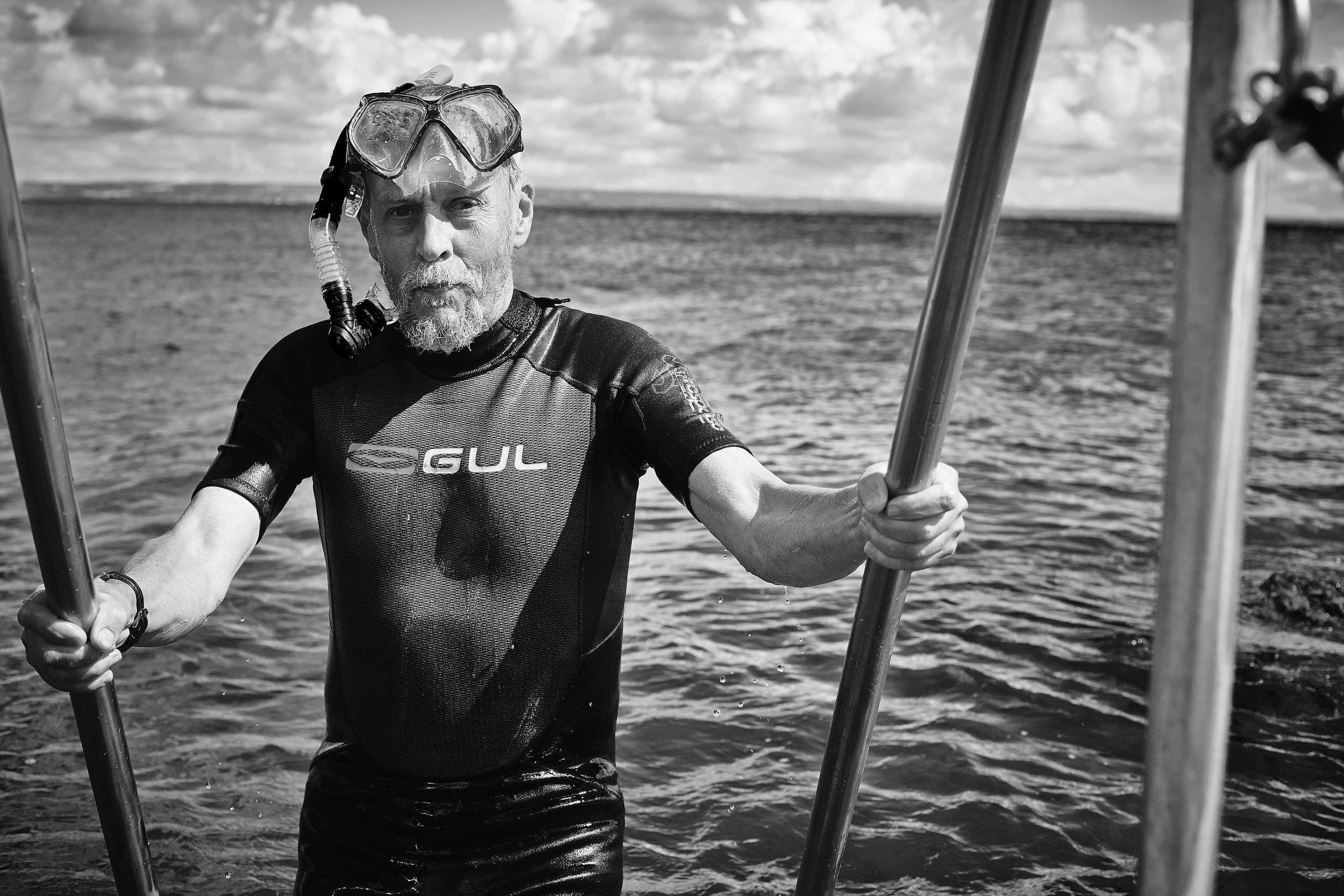 Carl-Erik and Sten Warfvinge sailing GUL II around 1972. 2nd in World Championships 1970, 3rd in 1971 and 1st in 1972. The boat was named GUL II before Gul watches existed!
A BIT OF "GUL" SAILING HISTORY.
​​​​
The enclosed film clip was filmed in August 1970 in a
charming little village called Tralee on the south-west coast of Ireland. The
venue was the Fireball – a two-man sailing dinghy – World Championships.
My brother was the helmsman and I was the crew. The name
of our boat was "GUL III"! Really spooky as we had never heard of the UK brand
of wetsuits called GUL. My first contact with that brand came ten years later.
GUL III was preceeded by GUL I in 1969 and GUL II in
early 1970. GUL II served us well, particularly during the 1971 World
Championships in Lebanon – 3rd place – and in N Carolina, USA in September 1972
when I was crewing for German Jörg Diesch (later Olympic gold medalist) when we
won the Championships.
"GUL" means "yellow" in Swedish, and GUL I had a yellow
hull, GUL II was purple and GUL III burgundy red. The logic escapes me today.
So how did we do in Ireland? Unfortunately the last race,
In wind and wave conditions that we loved, was cancelled as it was considered
too windy. We ended up 2nd.
This year I celebrate 50 years since that event in
Ireland, and over 30 years with GUL watches.
Sten Warfvinge
Founder of Gul watches
One of the best slogans for Gul has always been: "Born in the ocean, and shaped by the sea". It was initially used by Gul wetsuits in the UK, but it feels equally relevant for us at Gul watches in Sweden. The background in sport of the founders of Gul watches is sailing, often at top international levels. Therefore it was natural that Gul early on got involved with sponsorship of sailing events. This aquarelle was painted by Erland Holmström, Sweden's most accomplished illustrator of everything that floats and carries sails, be it dinghies or square riggers. It was painted back in 1995 and used as a poster for the international E- Dinghy European Championship, an event organized by Malmö segelsällskap. Gul watches was the main sponsor.
GUL AND THE ENVIRONMENT.
The best environmental contribution that GUL can make is to provide watches in such a high quality that they have a very long life. Watch cases are always in high quality stainless steel and we exclusively use sapphire or hardened mineral glass. In that way used watches retain their look for a long time. We also intentionally use designs that do not get outdated quickly. GUL watches that are more than 20 years old are still ticking away happily!
As far as possible we use local manufacturers for our packaging, and most of it is in recycled material. We make all display material in house instead of having it shipped halfway across the world.
GUL - THE ORIGIN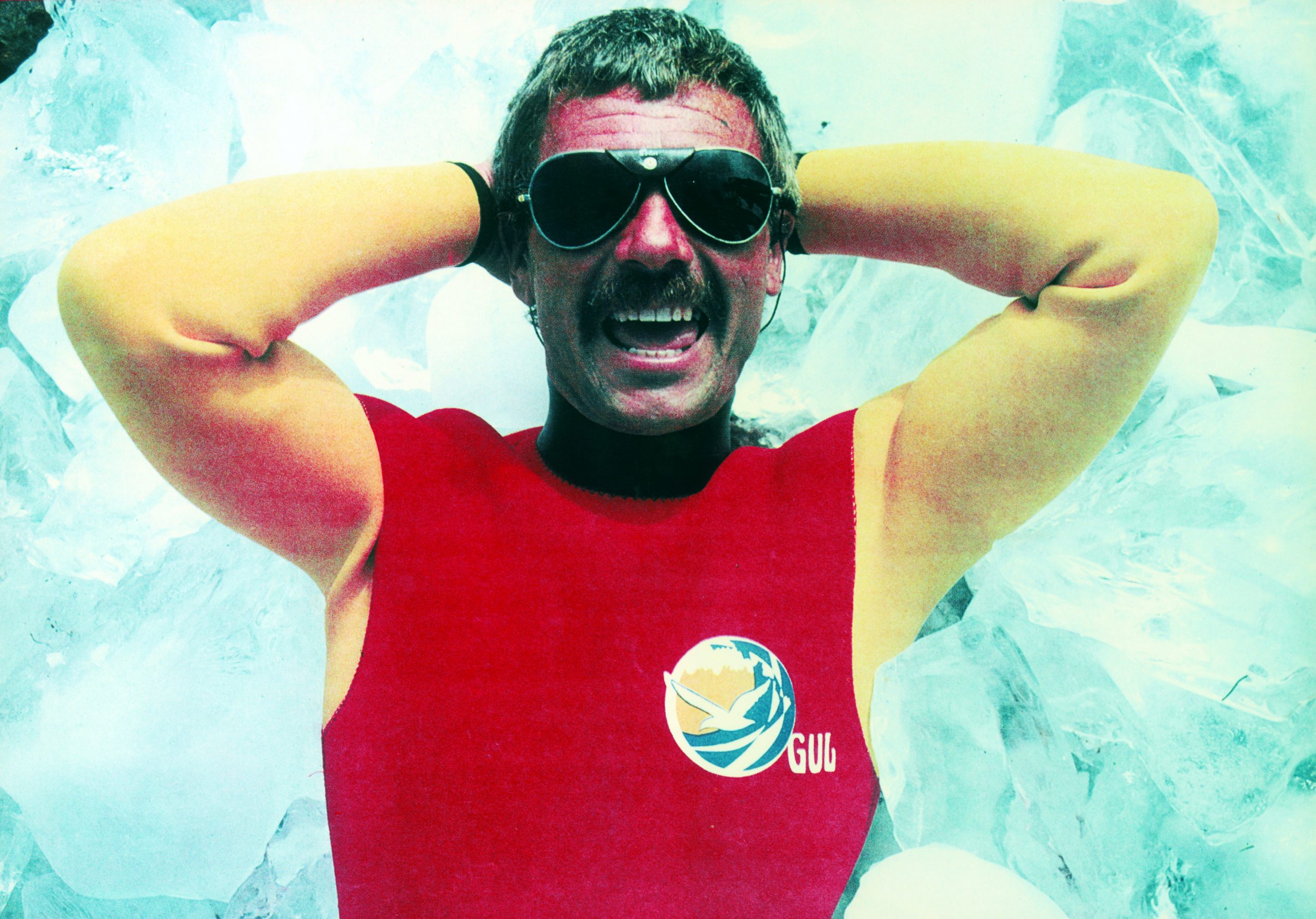 GUL originated in 1965 in a little village called Lostwithiel in Cornwall, UK.
It was thanks to Dennis Cross, a man with a passion for surfing, who decided that "enough was enough". Although he loved surfing, the waters of the Atlantic were just too cold, especially in the winter!
Dennis therefore set about designing the first purpose built wetsuit for surfers, a two piece wetsuit consisting of a jacket with a beaver tail and separate trousers.
This first wetsuit is rumored to have been made in the back of his split screen camper at Fistral Beach in Newquay, Cornwall.
From this humble beginning, the GUL brand was born.
By the early 70's, GUL had created the ground breaking one-piece wetsuit, which was named 'The Steamer' due to the steam that came from your wetsuit when removing it on cold days!
The term 'Steamer' is still used to this day to describe a full-length wetsuit.
GUL ELKSTRAP - THE STORY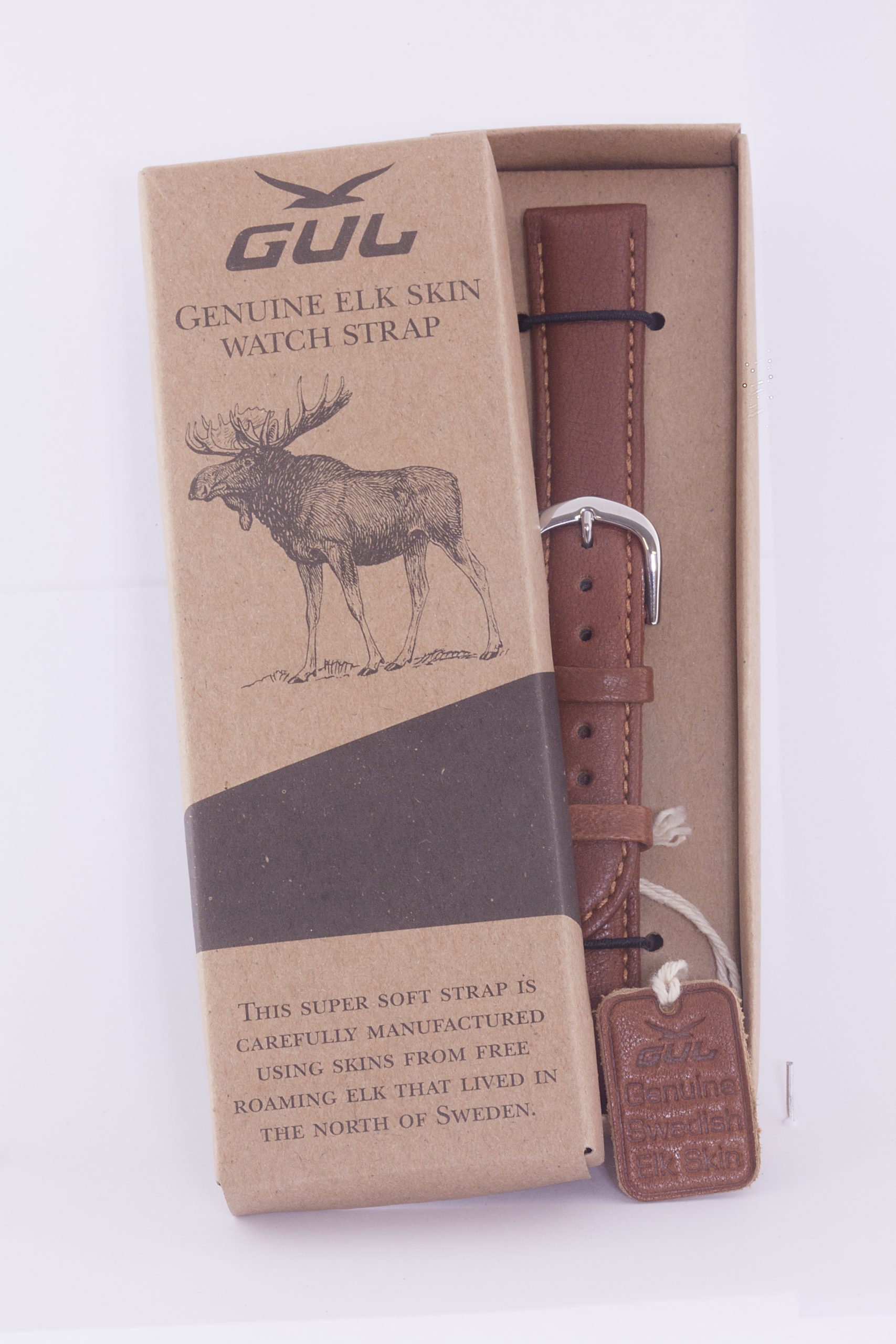 Sometime during the happy 80s one of our employees visited  the Swedish leather metropolis Malung, and it resulted in the purchase of a jacket in elk leather.  
This jacket was incredibly soft and pliable and, as it turned out, very durable. The idea of making watch straps in Swedish elk leather was therefore logical for us at GUL. 
We started by looking for a good elk leather supplier with the best quality and an environmentally friendly manufacturing process. We found a manufacturer with experience since the 1880s. Once there, elk skins in different colors and structures were ordered. These were delivered to our manufacturer who usually works with calfskins and other exotic skins. However, they had never used elk skin. Their first reaction was that the skins were extremely soft and flexible. They then performed the various quality tests that all skins undergo, for example durability and wear resistance. 
The elk skins passed the tests with a good margin.  
A number of sample strap were made and they were then sent to GUL in Sweden.  
The straps were fitted on watches worn by our employees. This real-life testing lasted several months and included exposure to salt and fresh water, wearing the strap while showering, being in the sauna, while doing manual labour, gardening and 24/7 use.  
After 6 months of hard practical tests and only good reviews, we were ready to introduce the straps on the market. They are now available in a range of colours and widths. 
GUL VELCROSTRAP - THE STORY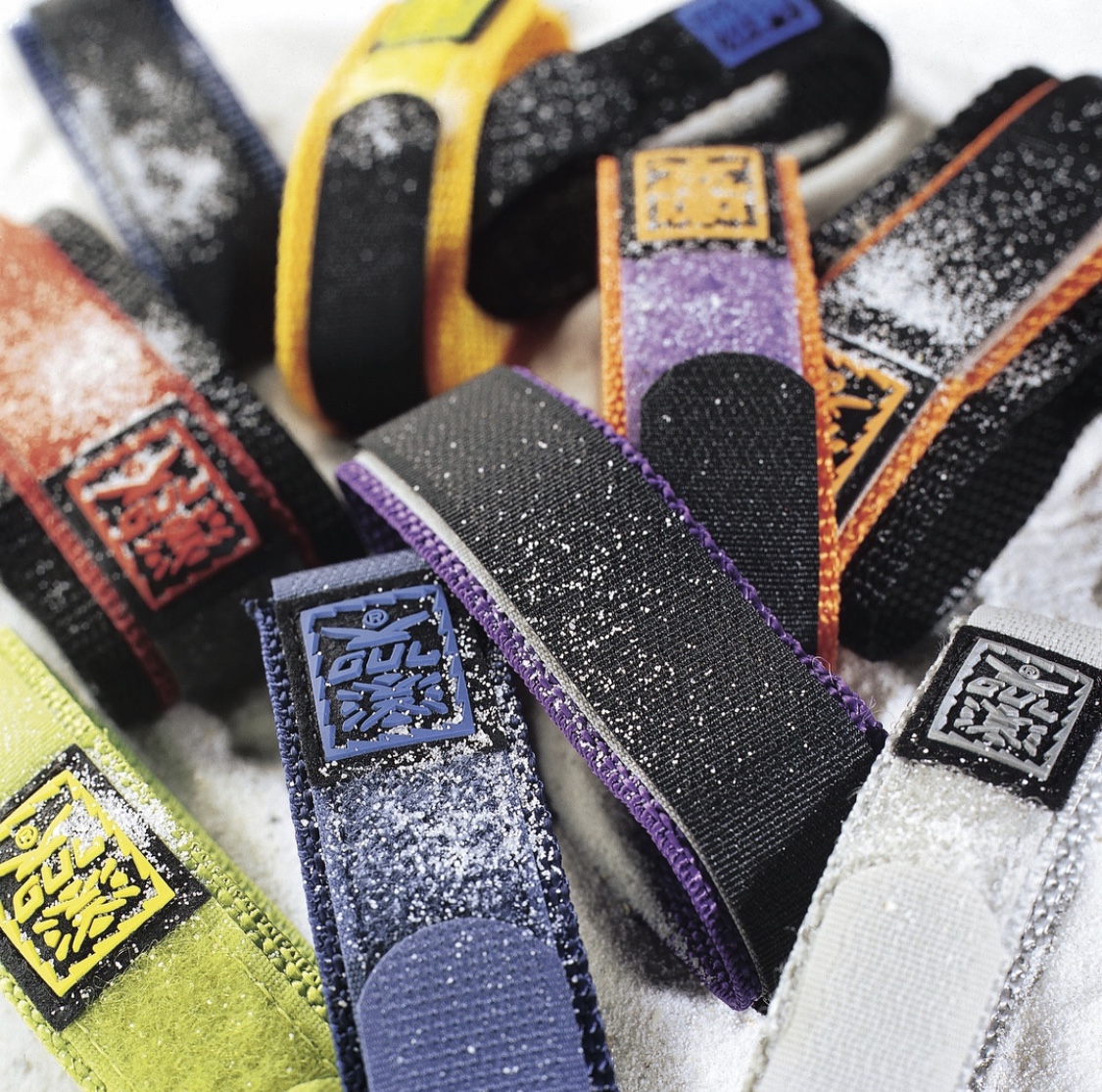 We frequently say that the GUL brand was  "Born in the water and shaped by the sea". When we first started designing and making watches we wanted them to be equiped with straps that would not fail in  tough wavesurfing conditions. Surfers were unfortunately used to losing watches in the waves as spring bars opened under severe stress. The only secure strap material was velcro. Even if one spring bar accidentally opened, the watch would still be attached to the wrist.
Other advantages with velcro straps are that they can be set just right – they are infinitely variable. They are also helpful for severely allergic persons as they pass under the watch case so there is reduced contact between the watch case and the skin. The strap in itself is not known to be the sourse of any allergies.
GUL did not invent the velcro watch strap, it had been
used in the surfing environment before. But GUL was the first watch brand that as standard equiped its watches with velcro straps.
GUL straps are:
COMFORTABLE
Fully adjustable: long enough to put the watch outside your wetsuit or skiing jacket.
SECURE
If you lose one spring bar, the other spring bar still holds the watch in place.
 
EASY TO CHANGE
It takes only a few seconds to change a velcro strap to another design / colour. Just pull it through the spring bars and thread the new one in place.

Available in a wide range of designs, colours and lengths/widths, for children and adults.
 Of high quality. We only use the best available materials for our straps.
 Long lasting and good value for money.
Possible to fit to virtually all watches that have spring bars.
Washable in luke warm soap water.
Nowadays, of course, GUL watches are available with many strap and bracelet varieties, but the velcro straps were the origin. We have sold over two million, it is hard to find better proof than that of the quality and popularity of the GUL velcrostrap.