Strong, fun and adventurous
The GUL Mirco watch the 'world's strongest children's watch´.  Worn and loved by boys and girls all over the world, this range of watches will take on the meanest of wizards, pirates and bandits on land or underwater. It's kind on the skin and boasts all the toughness that our Micro watches feature.
The 28mm Micro model has the added benefit of having titanium case back to minimize the risk for allergic reactions.
For the thinner wrist
Kids and women have a smaller, thinner wrists. For this, we created a collection of desirable watches. Kids are great test models when it comes to testing the 'knocks and bumps' of this collection. Their days are packed full of fun and wonderful adventures. Their minds take our watches into galaxies unknown and still come back in time for tea. Without problems with water leakage or scratched glass.
Women love these hard wearing watches as the straps are interchangeable. Accessorising with the latest fashion trends is quick and easy. Change the strap as much as you change your outfit.
As Cyndi Lauper once sang, Girls Just Wanna Have Fun!
Waterproof
Waterproof 10 atm, you can swim and snorkel with your GUL Micro watch.
Case back
Titanium case back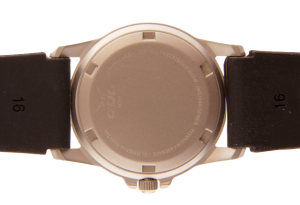 Sideview
Silicone strap, smooth and strong.
Metal tube
The strap is fitted with a metal tube that makes it move more freely. It does not grip the springbar, thus avoiding release.
BULB
The end of the strap has a "bulb" to stop the loop from slipping over the edge.
Small hooks
The first loop is held in place by two small hooks.
Cutting guide,
On the inside of the strap there are groves that have two functions:
1: The strap is "aired" and becomes cooler.
2: They act ct as guides when you need to shorten the strap.
Micro is equipped with Miyota movement
About MIYOTA
"Delivering high-quality watches to as many people as possible"
Miyota is devoted to providing value for generations to come.
Miyota Quality
Accumulated technology leads to high-precision manufacturing
Our movements are assembled in Japan using only parts manufactured at our Japanese plants, which enables us to ensure their quality. The production of high-quality movements is made possible by high-speed automatic assembly lines which were developed in-house through the extensive knowledge and experience of our engineers. Movements are delivered to customers worldwide after undergoing strict quality checks.
Miyota's signature model Caliber 2035 is manufactured at one unit per second. We have one of the largest movement production factories in the world.
Superior Movements
The advantages of metal: micrometer parts to wheels
Durable
Repairable
Reliable
Miyota movements are preferred worldwide for their durability, ease of assembly and disassembly and high impact resistance. The major parts are all made of metal. Metal materials enhance the beauty of colors and textures.
Calibre 2035 series achieved accumulated production of 1.7 billion units in 1999 to set world record.
Constant development creates innovation
Citizen Watch established a movement-manufacturing factory in the town of Miyota, Nagano Prefecture, Japan, in 1959 and started movement sales operations in 1980. In 1981, it introduced the signature model Caliber 2035 which became popular among well-known watch brands. Along with the Caliber 2000 Series, it continues to enjoy popularity today. Other designs and functions include the multi-function movement, the chronograph movement, slim-type movements, and mechanical movements. The slim mechanical movement Caliber 9000 series debuted in 2009 to supplement the long-seller Caliber 8200 Series mechanical movements.
Miyota's ongoing R&D supports development of new products for future needs and designs.
A Reliable Brand: MIYOTA
We take pride and have confidence in our quality movements and great technology
Customers trust Miyota due to not only the high-quality and stable supply of our products but also our detailed support for sales and technology. Miyota has support offices in Tokyo, Hong Kong, China and Germany, which brings us closer to our customers and we make periodic visits to customers in areas where we don't have offices. Sales support offers much more than just product information. We offer advice about watch development and design, hold technical workshops at customer facilities and provide technical support.
MIYOTA's PRIDE
Quality
Technology
Reliability
"Delivering high-quality watches to as many people as possible."
Devotion to quality is the driving force behind the development of our movements.
Miyota has continuously engaged in developing innovative movements that lead the industry in their design, function and quality.
For nearly 40 years, Miyota has provided continuous and reliable value,
raising industry standards and setting the world record for production.
Specification
Watch
Dial colour  –   Light green
Glass  –  Hardened mineral glass
Case size  –  28mm
Case material  –   Stainless steel
Waterproof  –  10 ATM – 100m (bath / swimming)
Movement  –  Miyota analog quartz
Date  –   No
Strap
Material  –   Silicone
Colour  –  Light green
Width  –  16 mm
Instruction
SETTING THE TIME
1. Pull the crown out to the 1st position.
2. Turn the crown to set hour and minute hands.
3. When the crown is pushed back to the normal position, second hand begins to run.